Bertrand Lesca is a theatre maker from France. After studying at Warwick University, he went on to assist Peter Brook and Declan Donnellan on several international tours. Bertrand currently works with Nasi Voutsas (Bert and Nasi) with whom he co-created the trilogy EUROHOUSE, PALMYRA and ONE.
The Constant Triangle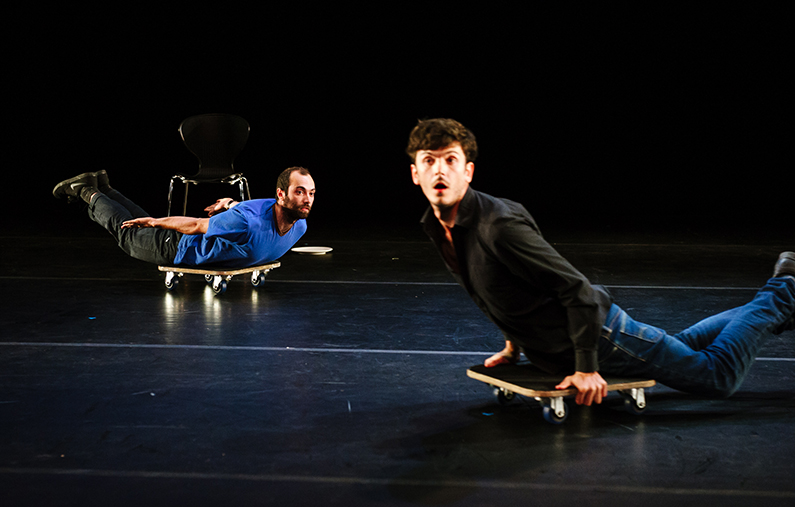 PC: What is theatre?
BL: We're interested in the idea that everything that you see is happening in the room at the same time – with the audience. We imagine a constant triangle between the audience, Nasi and myself that keeps looping. The constant awareness that we're in a room with an audience feeds our work. Whatever we do always relates to this one single idea.
PC: How does politics fit in with your work?
BL: I think the politics comes from what people know before entering the room. We give them a hint, which is usually the title and sometimes the blurb. That's what people should know before entering the room. Once they enter the room, we do things that are supposed to create associations in the spectator's mind. I think we're always very careful not to mention anything political in the room – we leave it to the audience to fill in the gaps and to create these associations. Of course, we go into the politics when we make the work: we research and debate. It's very clear, for us, what we're trying to create with each image, but I think people watching will think about a lot of things – sometimes that completely escapes us but that's okay. Everything we do on stage is very open to interpretation. For example, some people will see the work and only see it as a reflection on a relationship, or they will think about conflict, or they will think about what we really want to talk about, which is a specific political conflict, but we don't force it. We never say, "This is what you should think!"
PC: Why is it important for your form of political theatre to leave space for the audience and to be open to interpretation?
BL: We knew that we wanted it to be political when we started working together, but we felt uneasy when we thought about political theatre because, for us, it was this idea of preaching to the converted – we really wanted to avoid that. So, we started looking at another way of making political theatre which wouldn't be that.
PC: How did you develop that approach?
BL: We started making Eurohouse with interviews we had done in Greece, almost like a verbatim piece. Then we invited someone from Greece to see it and she was like "Yeah, that's okay." Then we showed her us two on stage with me humiliating Nasi and making him do stuff that he didn't want to do, and she said, "I can connect with this and the feeling that it leaves me with, this sense of humiliation, is exactly what this is all about." This made us think that we can work through the politics through a feeling, through people having an emotional connection with the political subject that we're trying to explore, rather than an intellectual understanding of what's going on. A lot of our work is to do with trying to create an understanding through an emotional connection with what's happening in the room, with what's happening between us both or with what's happening between us and the audience. We're always really trying to work through the feeling of what that particular political context is doing to people.
Read the full interview here.