Bertrand Lesca is a theatre maker from France. After studying at Warwick University, he went on to assist Peter Brook and Declan Donnellan on several international tours. Bertrand currently works with Nasi Voutsas (Bert and Nasi) with whom he co-created the trilogy EUROHOUSE, PALMYRA and ONE.
The Breaking Point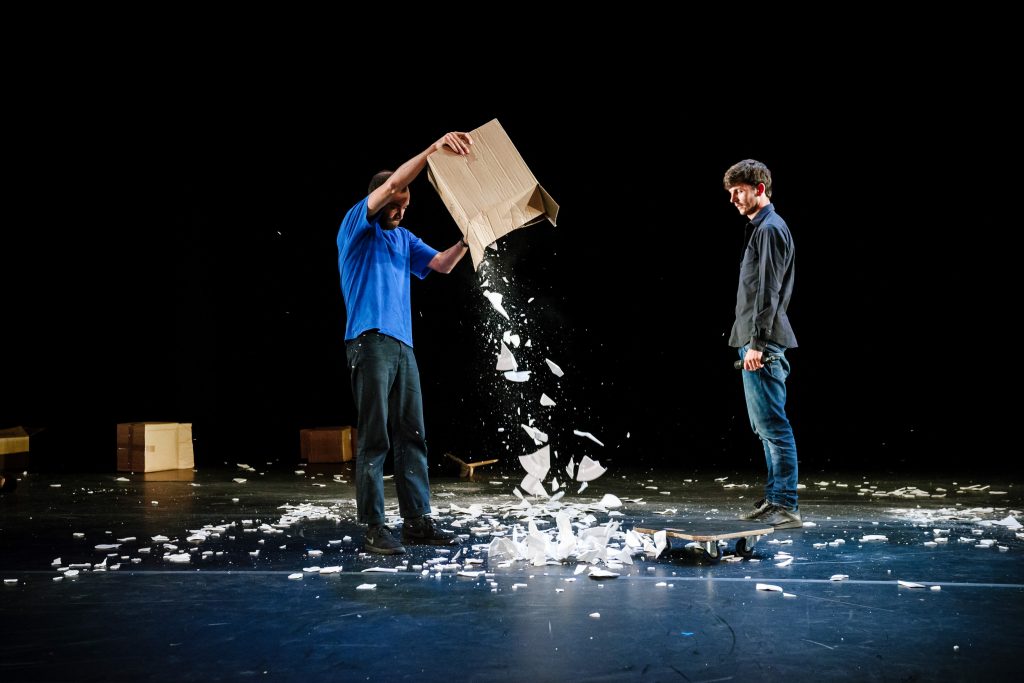 PC: What's so important about that collision between comedy and violence?
BL: I think it's a double-edged thing for the audience: people take a bit of pleasure watching but also find it very violent and uncomfortable. Seeing someone on stage being humiliated in real time feels very interesting because the audience is complicit. The audience are always having to assess their position as a spectator, or as a witness to someone humiliating someone else. There's something a little bit masochistic about it too, in the same way that when you watch something incredibly violent on a laptop, you don't want to see it, but at the same time you do want to see it. We want to explore the limit of what an audience can witness, as well as exploring our own limits with each other. We love seeing how far we can go with each other. It's that classic comedy thing of taking pleasure from seeing someone fall down and hurt themselves. People find it funny up to a point and we're interested in how long we can make it funny and playing on that moment it doesn't become funny anymore. That's because it's about real stuff that's happening outside the theatre. We like the audience to get lost in it, so they don't always see the metaphor, but then we catch them at that breaking point, so they go, "Oh fuck, this is what it's about!" Suddenly it hits them in a different way.
PC: How do you 'write' the audience in that constant triangle so that those breaking points hit?
BL: Part of the creative process is to invite a lot of people to come and see it so that we can understand the piece, because until people start coming in, it's impossible to know what the role of the audience is going to be. For example, for both Palmyra and One which is the last part of the trilogy, we only had a sense of the full dramaturgy of the piece once people are in the audience. We don't really know exactly what we're going to do when we invite people in, but we have a sense of it. We do a long improvisation with anchors of things that we've done in the past that we can launch for each other so that we know where we're going, it might work, it might not. Then we invite another set of people to come in and we'll improvise again until eventually we start to understand the piece through what is happening with the audience. The piece is completely rewritten once the audience comes in. Before that we try out games and we talk about it a lot. We have a sense of where we're going but we only really start writing the piece when we have an audience.
PC: The triangle dynamic was very stark in Palmyra when both you and Nasi simultaneously address the audience about the hammer. Can you describe that and say why you create those moments where the audience can't have an answer, or you specifically pull them between two things?
BL: So, there's the first moment where we address the audience; I stop the show and I say, "I need to stop." I make comments about how crazy he is and ask if anyone thought about the hammer going into my face. Then I say, "I tell you what we're going to do, we're going to give this [the hammer] to someone in the audience, someone I can trust." There's a little bit of a fun interaction and then we move on to the next section of the play. Eventually, Nasi starts asking for the hammer back and I say, "Don't give him the hammer, take it outside." Then we're playing this conflict of me saying to the person, "Don't give him the hammer." And him saying, "Give me the hammer." It changes according to who has the hammer and what that person says. Sometimes the person takes it out immediately, sometimes that person doesn't want to take it out, or they keep it, or they even give it to Nasi. There are all these options and so the audience really does have a choice but then there is always this final moment, which is that I have a bigger hammer. No matter what that person decides to do, I will always win. Maybe that's your sense of us not giving the audience a choice, because we always land on that same moment. We worked hard to see how we could really give out the choice to the audience because it should feel difficult for the person who has the hammer; it should feel difficult for the whole audience around them as well. That conflict happening in the audience is really important: What do we do? Who do we trust? Who's to be trusted the most? Is it better to take the hammer out so that it's safe or is it better to keep it? Sometimes it creates a big debate amongst people in the audience about what they should do. That choice is real.
PC: Why is it important for the audience to be an active witness rather than a passive witness?
BL: I think the point we're trying to make is that we're witness to this politics that is happening up to a point, but we're also completely involved in that problem. For example, they watch the Middle East conflict from afar and that's what they do in the show. Our conflict happens between two people and they watch from afar, but then we start interacting with the audience and then they're like, "Oh shit, I thought I was just watching, they want me to actually answer? They want me to think about my role in this?" I think that's really important for us, to say that we're not just spectators, we're not just witnesses, we're also involved in that problem. We hear about these stories, Greece, Palmyra and the Middle East and we quickly feel desensitized, "That's happening far away." Or, "I've seen this over and over again, I don't know what to think about this anymore."  We want people to actually consider what they think about it.
Read the full interview here.